Performance – Live music – Video art
with Stefania Milazzo – Thomas Kampe – Steffi Grunzel – Konrad Behr –  Ben Hermsdorf  – Giacomo Sferlazzo – Afshin Ghaffarian
Punti di fuga / Fluchtpunkte ist eine Workshopreihe für Dresdner Bürger unterschiedlicher Nationalitäten. Die Leitung übernehmen internationale Künstler aus den Bereichen Performance, Musik, Tanz und Videokunst. Gemeinsame Themen und verschiedene Erfahrungen werden performativ erzählt. Die Teilnehmer werden in der Bewegungsform eine gemeinsame Sprache finden, in der sie sich kreativ äußern können.

Punti di fuga / Fluchtpunkte is a project where citizens of Dresden and of different nationalities have the chance to join a series of workshops led by international artists in the field of performance, music, dance and video art and to share their ideas. Different languages melt together and create an artistic product.
4-5 | 07 | 2015
Workshop with Stefania Milazzo –  Steffi Grunzel – Konrad Behr
geh 8 – Kunstraum und Ateliers e.V. (Dresden Pieschen)-10:00 – 17:00 Uhr
SICH KENNENLERNEN
Wir lernen uns kennen und erkunden gemeinsam den neuen Ort und experimentieren mit Video, Live-Musik und Bewegung.
Welche Verbindungen, welche Unterschiede, welche Gemeinsamkeiten, welche Möglichkeiten und Qualitäten des Austauschs und des Ausdrucks ergeben sich?
GETTING TO KNOW EACH OTHER
We take a look at ourselves and each other. Together we will explore our environment and experiment with videos, live music and body movement.
What connections, differences, similarities, possibilities and what qualities will be the result of this exchange?
————————————————————————————————————————————————————————————————————-
11-12 | 07 | 2015
Workshop with Stefania Milazzo –  Steffi Grunzel – Konrad Behr
geh 8 – Kunstraum und Ateliers e.V. (Dresden Pieschen)-10:00 – 17:00 Uhr
"DURCH DIE BEWEGUNG KOMMUNIZIEREN"
Die Bewegung gibt uns eine neue Ebene der Kommunikation.
Die Kernfrage ist: "Was sind meine Träume?".
Themen werden Improvisation mit Sounds und Klänge sein. Dabei sammeln wir eigene Ideen für ein kurzes Video- Audio Installation.
Am Ende wird es eine Präsentation der künstlerischen Arbeit im Rahmen der Ausstellung Holy Independent Space geben (geh8).
FINDING WAYS TO COMMUNICATE
We will find a new level of communication and deal with improvisation and sounds.
Main question of this meeting is: " What are my dreams ? "
During the Workshop we will explore our body movement with live music and finally present the artistic work. We share our own ideas for a short video-audio installation to join the Exhibition Holy Independent Space in the geh8, Dresden.
————————————————————————————————————————————————————————————————————-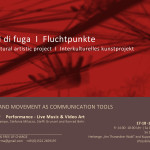 17-18 -19 | 07 | 2015
Fr 14:00 – 18:00 Uhr und Sa 10:00 – 18:00 Uhr, Kuppelhalle Tharandt
So 10:00 – 21 Uhr, Herberge Am Tharandter Wald
NATUR UND BEWEGUNG ALS SPRACHMITTEL
mit Thomas Kampe (http://www.thomaskampe.com/)
In diesem Workshop wird uns die Natur als Inspiration und Unterstützung dienen.
Dabei steht die Frage im Mittelpunkt: "Was bedeutet zu Hause für mich?"
Dieses Thema wird mit Live-Musik und Video erforscht und aus verschiedenen Perspektiven performativ vorgestellt.
NATURE AND MOVEMENT as COMMUNICATION TOOLS
with Thomas Kampe (http://www.thomaskampe.com/)
In this workshop we will use our natural environment and movement as inspiration and support. With videos and live music, we will creatively explore the subject of "home" from different perspectives.
"What does home mean for us?"
We will try to show the common themes and different experiences that have emerged in a performative way to an audience.
————————————————————————————————————————————————————————————————————-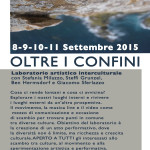 08-11 | 09 | 2015
Porto M – Lungo Mare Luigi Rizzo, Lampedusa, Sicily, Italy
OLTRE I CONFINI
Laboratorio artistico interculturale con Stefania Milazzo, Steffi Grunzel, Ben Hermsdorf e Giacomo Sferlazzo
Cosa ci rende lontani e cosa ci avvicina?
Esplorare i nostri luoghi interni e rivivere i luoghi esterni da un'altra prospettiva. Il movimento, la musica live e il video come mezzo di comunicazione e occasione di scambio per trovare punti in comune tra diverse culture.
Obiettivo del laboratorio è la creazione di un'azione performativa, dove la diversità non è limite, ma diventa ricchezza e crescita culturale.
APERTO A TUTTI gli interessati allo scambio tra culture, al movimento e alla sperimentazione artistica e performativa.
PARTECIPAZIONE GRATUITA!
BEYOND BORDERS
Intercultural Artistic Workshop with Stefania Milazzo, Steffi Grunzel,Ben Hermsdorf and Giacomo Sferlazzo
What keeps us apart and what brings us closer?
Exploring our inner space and experience the external space from a different perspective.
Body movement, live music and video as a communication tool and possibility to exchange between different cultures in order to find common grounds. Aim of the workshop is the creation of a performative action, where diversity is not a limit but cultural richness and growth.
OPEN TO ALL interested in cultural exchange, movement and artistic sperimentation and performance.
PARTICIPATION IS FREE OF CHARGE
INFO: dd.proforma@gmail.com | +39 340 6171309 | +49 (0)1522 2659197
————————————————————————————————————————————————————————————————————-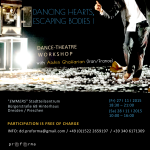 27 – 28 | 11- 2015 – Emmers (Dresden Pieschen)
Friday 18:30 – 21:00 – Saturday  10:00 – 16:00
Dance – Theatre Workshop with Afshin Ghaffarian (Iran/France) –  http://reformances.com/en/
DANCING HEARTS, ESCAPING BODIES
The ability to express is necessary to creat.
Creating is resisting which is essential for "being" in the world.
How can we transform our past memories and images into an active form of art linked to our daily life ?
How can we find common challenges together?
The personal stories and experiences are at the same time collective experiences:
How can we link these personal experiences to a collective experience through dance and theatre?
Afshin Ghaffarian was born in Mashhad (Iran) in 1986.
His study on Jerzy Grotowski's theater and his approach to the cinema fed his art.
From the underground presentation of Medea in the middle of a desert in 2007 to his current presence on the French contemporary stages, he forms his own artistic research on the political and poetical body, this body which is at the heart of his protest feeds his choreographic work.
In Paris he created the "Reformances Company" so as to continue his artistic adventure.
PARTICIPATION IS FREE OF CHARGE!
INFO and REGISTRATION
dd.proforma@gmail.com – 015222659197
punti di fuga – Fluchtpunkte project
Funded by
Kulturstiftung des Freistaates Sachsen
Amt für Kultur und Denkmalschutz – Landeshauptstadt Dresden
Supported by
Proforma – Performance Gruppe Dresden
Jugendhaus Emmers – Pieschen Dresden
————————————————————————————————————————————————————————————————————-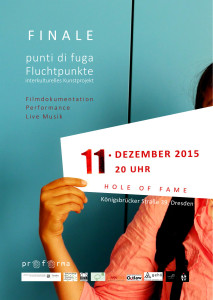 FINALE
11 DEZEMBER 2015 ab 20 UHR
HOLE OF FAME Königsbrücker Str. 39, 01099 Dresden
Im Rahmen des interkulturellen Kunstprojekts punti di fuga | Fluchtpunkte haben sich Dresdner Bürger/innen und Asylsuchende zwischen Juli und November 2015 gemeinsam künstlerisch mit Fragen von Flucht, Migration und Begegnung auseinandergesetzt. Das Projekt umfasste eine Workshop-Reihe in Dresden, Tharandt und auf der Insel Lampedusa/Italien, angeleitet durch Dresdner und internationale Künstler/innen aus den Bereichen Tanz, Performance, Videokunst und Musik.
Das Finale am 11. Dezember 2015 im Hole of Fame bietet eine Rückschau auf die Projektergebnisse in Form einer Filmdokumentation und Performance.
INFO zum Projekt:
dd.proforma@gmail.com – 015222659197
Gefoerderrt durch
Kulturstiftung des Freistaates Sachsen: Startseite
Amt für Kultur und Denkmalschutz – Landeshauptstadt Dresden
Unterstuetzt von
Proforma – Performance Gruppe Dresden
Jugendhaus Emmers – Pieschen Dresden
geh8 Dresden
Kuppelhalle Tharandt
Porto M Lampedusa
———————————————————————————————————————————————————————————————————–
Gefördert durch die Kulturstiftung des Freistaates Sachsen und Landeshauptstadt Dresden, Amt der Kultur und Denkmalschutz.
Sponsored von geh8, Kunstraum und Ateliers e.V. , Herberge am Tharandter Wald, Kuppelhalle Tharandt, Emmers, Proforma, Askavusa Lampedusa