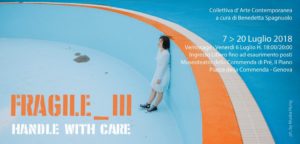 Contemporary Art Collective 2018
"FRAGILE / handle with care" – III Edizione, a cura di Benedetta Spagnuolo
Museoteatro della Commenda di Prè, II piano – Piazza della Commenda, Genova
TELL ME THE DIFFERENCE!
People who land on the same place – in this case the island of Lampedusa – receive different special treatments and a welcome service according to the rule:
"I am what my passport describes!".
A tourist arriving by plane or private yacht will never receive the same "attention" given to a migrant looking for shelter or simply with the same desire to explore a new land.
The question arises: What is the difference? Tell me the difference!
In a photographic collection of tourists and migrants, the faces speak for themselves and need no further comment. A food for thought for a migration policy based on money and power.